Aerial Surveys, Digital Photogrammetry and Aerial Photography
San-Lo Aerial Surveys is a California Corporation founded in January 1968. The company specializes in precision Digital Photogrammetry providing topographic mapping and aerial photography services in the southwestern United States.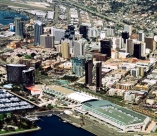 Aerial surveys are a non-intrusive surveying method that can provide usable and flexible 3D data and photographic records. Aerial surveys are accurate, cost effective and useful tools for:
Surveyors
Civil Engineers
Architects
Law & Forensics
Archaeologists
News & Media
height="64" align="right">Aerial photographs allow you to mark changes to buildings, boundaries, features and vegetation up to the date the photo was taken and can be useful for project planning and analysis, land management or investigating boundary disputes.

Contact us to learn more about our mapping services, or find out more about San-Lo Aerial Surveys.